Introduction of Feal Dental Laboratory Co., Ltd.
Feal Dental Laboratory Co., Ltd. in Bunkyo-ku, Tokyo is a dental laboratory with rich experience of production of 20,000 ceramic dental restorations a year. This page introduces a message from our representative and the company profile.
For happiness of all related people ~Message from the representative~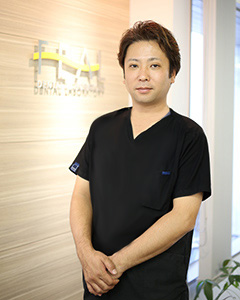 We wish for your happiness more than anything else. All people related to our company will be happy through our work. That is my wish as the representative of the company. "People related to us" are dentists, dental laboratories, patients and our staff members who work together.
All of our staff members are proactively engaged in their duties to satisfy patients and dentists. I believe that the thoughts of our staff members produce higher quality of technical materials, for which they find a rewarding sense of satisfaction.
Highly-accurate technical materials that satisfy patients and dentists cannot be created without state-of-the-art devices and training of skills. For patients' satisfaction, we will continue to improve our facilities and actively introduce the latest knowledge and skills.
Company history
| | |
| --- | --- |
| 1998 | The current representative director, Yoshiteru Tomita completed the postgraduate course of School for Dental Technicians attached to Tokyo Medical and Dental University |
| 2003 | Tomita took Aoshima seminar. |
| 2004 | Tomita opened Feal Dental Laboratory as a sole proprietorship. |
| 2006 | Tomita was appointed a part-time assistant professor in charge of practical training of porcelain at School for Dental Technicians attached to Tokyo Medical and Dental University. |
| 2007 | Tomita obtained certification of the zirconia instructor of Noritake Dental Supply Co., Ltd. |
| | Tomita obtained certification of the instructor of Estenia C&B of Kuraray Medical Inc |
| 2008 | Feal Dental Laboratory Co., Ltd. was established. |
Company profile
Company name
Feal Dental Laboratory Co., Ltd.
Location
Boa Hongo Building 6F, 3-42-5, Hongo, Bunkyo-ku, Tokyo 113-0033
Phone number
03-5913-7708
FAX
03-5913-7709
Establishment
2004
Incorporation
2008
Representative
Yoshiteru Tomita
Bank of account
The Bank of Tokyo-Mitsubishi UFJ, Ltd
THE ASAHI SHINKIN BANK
SUGAMO SHINKIN BANK. SSHBJPJT
Sumitomo Mitsui Banking Corporation
Description of business
Manufacture and distribution of dental technical materials